Construction & Remodeling Products
Kitchen & Bathroom Construction & Remodeling Products
A wide selection of kitchen and bathroom construction & remodeling products is always available in our wholesale warehouse facilities in Rockland, MA, and Manchester, NH. We welcome all property managers, builders, contractors, designers, and other construction and remodeling industry professionals. Find the right styles and materials and enjoy our fast service and delivery to make any project a success.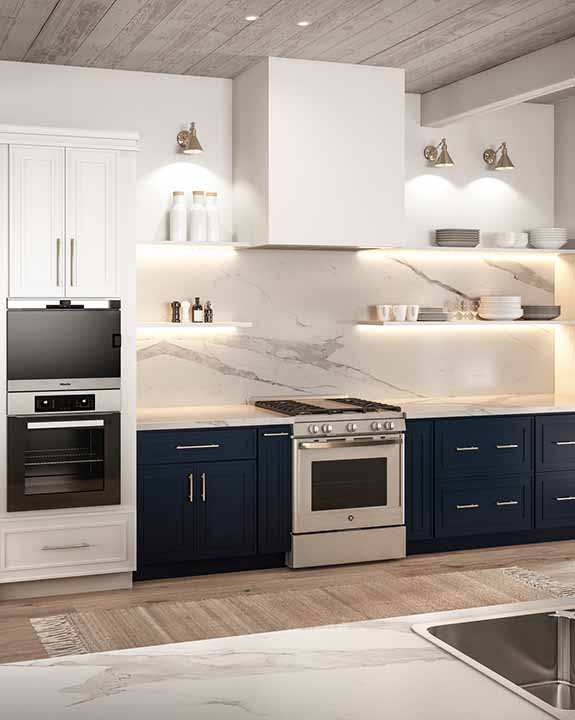 Kitchen and bathroom cabinets are always in stock. A full kitchen order can be ready within 3 days. Design and delivery available.
Natural and engineered stone countertops are locally sourced and fabricated with precision equipment right at our facility in Rockland, MA.
Stunning glass shower doors and enclosures come directly from the manufacturer. Our factory-direct wholesale prices are hard to beat.
Turn-key bathroom vanities come preassembled and ready to install. Delivery and installation services are always available.
Best Prices and Large In-Stock Inventory​
Factory-direct prices for contactors, builders, designers, and remodeling industry professionals on cabinets, countertops, glass shower doors, and bathroom vanities.
Always in Stock
This is what sets us apart from other distributors. Our inventory is always in stock. Kitchen and bathroom cabinets come directly from the manufacturers' facilities and are stored in ready-to-assemble sets. For example, a full kitchen cabinet set takes 1-3 days to put together and deliver to client. Glass shower enclosure sets are ready to go at any time. Our professional builders are available to measure and install shower doors and enclosures. Granite, marble, and quartz slabs are fabricated with exact precision right at our warehouse facilities. Delivery and installation are also available upon request. Also, do not forget our ready-to-go bathroom vanities! Complete with sinks and hardware upon request, bathroom vanities can be delivered and installed the same day.
Factory-Direct Inventory
Everything Is In Stock
Stone Cutting Equipment
Preassembled Modules
Design & Delivery
Besides large warehouse inventory where contractors and designers come to choose and pick up their kitchen and bathroom remodeling products, we offer additional services. Our on-staff professional designers will help with measurements, layout, and style selections for any remodeling or construction project. Next-day delivery is offered on most products. Our glass shower doors and countertops come with professional installation services as well.
Professional Designers
Measurements & Layout
Next-day Delivery
Installation Assistance